Screen recording permission
When tapping the messaging button to report a bug in Android, you'll be asked for permission to record your screen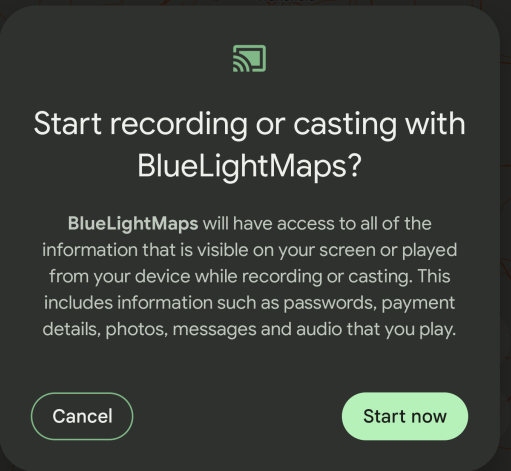 This is required so our support application can take a few quick screenshots of your screen (with Blue Light Maps open) before opening the form to contact us or report an issue.

You'll see the captured screenshots in the next screen, and are able to remove them from your report prior to submission if you wish.

Related Articles

Getting Started

Logging In The first time you run Blue Light Maps, you'll need to grant 'precise' location permission, and you'll be asked to enter your registered email address before being taken to a login screen. The app is only available to registered ...

I can't hear voice instructions

Note: You can hear voice instructions only while driving and when the screen is on. If you can't hear voice instructions: Please make sure that your device media volume is not muted. You can change the volume with the device's volume buttons. To do ...

Routing Modes

When generating a route, you will see icons at the top of your screen that represent the different vehicle routing modes available to you. They're not specific to type of emergency service, but vehicle characteristics. The icons are shown in ...